I LOST 4 POUNDS IN FIVE DAYS
It's No Secret...
Can I really say this is some secret that water is healthy?
No.
It's well known that people are supposed to be drinking water everyday and that it can help with weight loss...
What people DON'T know is how much water is the recommended amount for weight loss and I'm here to tell you that, by drinking a gallon of water a day, you can lose weight FAST.
But First, Let Me Introduce Myself
Hi there! You don't know me and I don't know you.
So why should you do something that some person on the Internet is telling you to? Why should you even listen to someone that has no college degree in Nutrition or Fitness? (Although I've taken many courses on the matter and I read Nutrition books for fun...)
It's because of my results! And not only my results... Some of my family members have tried this and seen the results for themselves. Among those people were my mother, my aunt, my brother, and my boyfriend.
Check out my video below to hear it from me.
The Video Testimony (Sort Of)


AND SO...
Now you kind of get a feel for how blown away I was that THIS was working for myself and my family members. WATER... I mean H20... Something that is just there and free?
HOW?!?!
I was buying weight loss pills... Diet food... Exercise equipment...
I was spending money and nothing was working. In other videos on my channel I test weight loss products and so far, I've gotten no results from those products. And drinking water was what got the ball rolling?
How To: GET STARTED!
Join my weight loss journey in an interactive way...
I truly want to see more people's results with this weight loss challenge and this is how you can get involved and become motivated!
Add me on Instagram: hippie_oftheyear
I will follow you back and after five days post a before and after photo of yourself with the hashtag GallonChallenge.
#GallonChallenge, got that?
Upload the picture with that hashtag and I will do the same on my 10 day mark. So every five days you can upload a picture so everyone can see your journey. It's proven that losing weight is easier with your own personal cheerleaders motivating you along the way.
Let me be your cheerleader this year!
Go to the store right now and buy a gallon of water, from there you can write motivational things on the side of it like the picture I have below. This is so important because I can't be there every second of your day to remind you to drink water, these bench marks help encourage you and PUSH you to drink your water!
It helps if you get someone in your household involved with this, even if they don't want to lose weight it's still healthy to drink a gallon of water a day!
At first I wasn't finishing the entire gallon so don't be discouraged! Now sometimes at night I find myself putting a little more water in it once it's empty.
Tips:
1) Fill it up right when you wake up.
2) Carry it with you everywhere but be careful not to leave it in the sun, plastic lets out a chemical when exposed to sun for too long. (Don't feel shamed bringing this thing around.)
3) Change the gallon after a week or so because the reuse also breaks away at the plastic and releases the chemical into your water. (They're super cheap anyways.)
4) Like I said... GET PEOPLE INVOLVED!
5) Snap a picture the first day and then on the fifth day and every five days from there!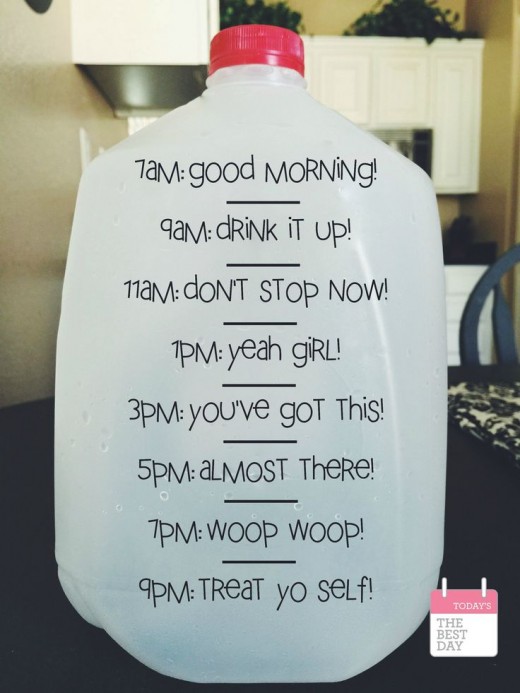 Design It Your Way
So I found that my family members all woke up at different times so you can adjust the times to your liking, however I would keep the two hour increments for a better layout.
Also, everyone I know wrote different things to encourage them!
No one I know wrote "Treat Yourself" for the last one because you don't want to go and ruin a hard day's work. Instead I put "Success Breeds Confidence" because that motivates me.
Put what motivates you! Look up quotes and what other people wrote on their's! No shame in copying with this.